This meeting of artificial intelligence and decentralized real-time data holds a lot of potential for experimentation, as both become more ubiquitous. That's why we were delighted to offer a Streamr prize to challenge participants of the LearnWeb3 Decentralized Intelligence hackathon to deploy the Streamr Network in projects using AI. The response exceeded our expectations, with over 30 projects entering the fray, and providing new use cases for us to consider ahead of the 1.0 release.
Here are our top picks that impressed us the most!
1st Place: Crypto Queries
"Crypto Queries" returns with a tool designed to facilitate interaction with Web3 data, pulling primarily from KYVE and Streamr, and giving users the ability to use AI language tools, such as ChatGPT, to query the data in natural language, and even save the queries as an NFT.
Key features:
AI Queries: Users can use natural language to interact with real-time data..
Platform Layout: The tool comprises an SQL Page (a decentralized blockchain data hub) and an AI Page for natural language queries about live blockchain data.
Additional Features: The tool integrates KYVE for data reliability and offers options to save ChatGPT queries as NFTs. User identification is also streamlined with SpaceID .arb domain names.
Our Take: "Crypto Queries" is a useful tool for analyzing Streamr data. We hope to see it support more streams in the future. This project can help users determine metrics from the provided data and understand the JSON data structure in the stream. There's also potential for generating TypeScript interfaces, which could make data processing in apps more efficient. We look forward to seeing how this project develops.
2nd Place: Streamr ML Demo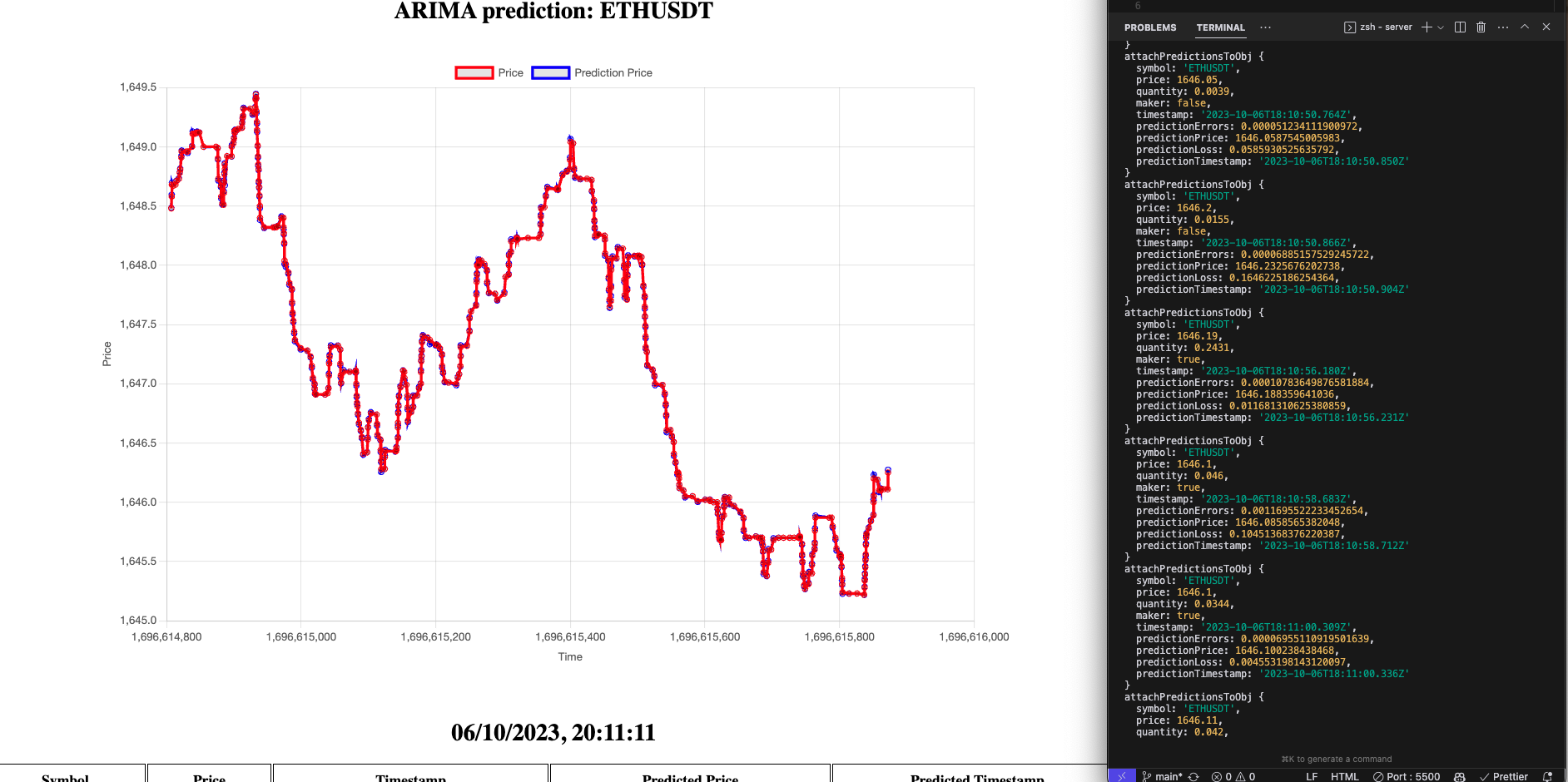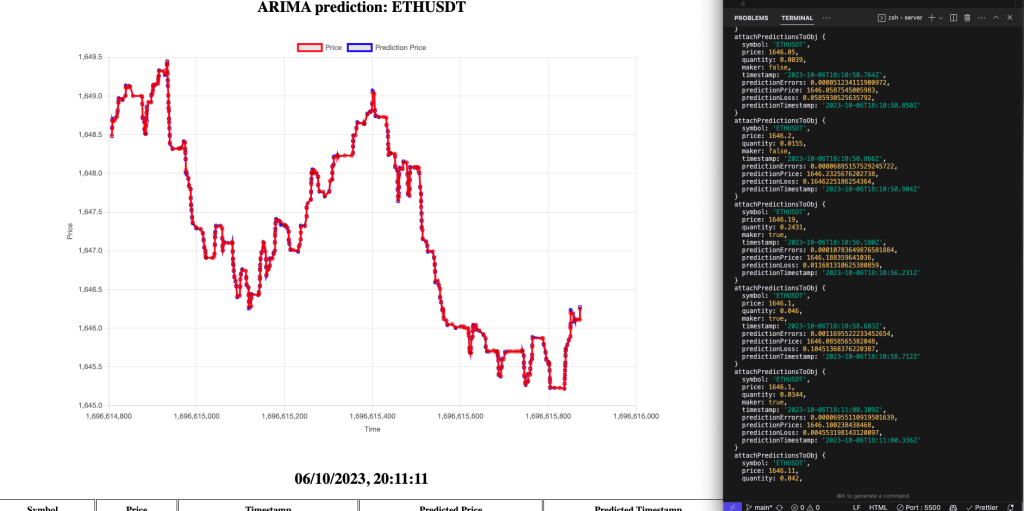 "Streamr ML Demo" connects the Streamr platform to the Binance API, using the stream id binance-streamr.eth/ETHUSDT/trades. Once set up, it employs the ARIMA machine learning model to attempt to predict future values and displays these predictions on a web page.
Key Features:
Predictive Analysis: Provides real-time predictions.
Visual Representation: Displays live and predicted data side-by-side on a graph for easy comparison.
Educational Component: Offers insights into its underlying processes for those interested.
Future Expansion: The foundation is solid, leaving room for added features down the line.
Our Take: "Streamr ML Demo" effectively combines AI and real-time data streaming. By offering potential integration with bots and basing decisions on its assessments, this tool hints at a practical approach to real-time data prediction.
3rd Place: Breathing Easy
"Breathing Easy" focuses on presenting air pollution data in a user-friendly manner. Using the Streamr Network, it combines real-time air quality data with an AI ChatBot for a simplified understanding.
Key Features:
Real-Time Air Quality Data: Utilizes strategically placed sensors to gather air quality metrics. This data is then passed through services like Ambeedata to the Stream Network HUB.
AI ChatBot Interface: Instead of presenting raw data, the bot processes and translates the air quality metrics into easy-to-understand reports for users.
Our Take: "Breathing Easy" offers a straightforward and entertaining solution to the challenge of understanding air quality data. By merging real-time data with AI, it makes air quality information accessible and easy to grasp.
Other noteworthy Submissions:
The projects from the LearnWeb3 hackathon are just a glimpse of what we hope is to come. Keep building and connect with us on Discord.