2023 is underway and it already looks like it's going to be an exciting time for the Streamr community and project!
A couple of months ago, Streamr and the ATARCA project launched the first shareable NFT (sNFT) awards as part of a pilot to reward and acknowledge the valuable contributions made by the Streamr community. We've since issued several awards to recognise the great work done by the community, which you can browse on the Talko platform.
For a more in depth look at what makes sNFTs so unique, then have a peek at our previous post. And if you really want to dive into the theoretical side of anti-rivalry, ATARCA have shared an awesome and free learning course you can access here.
So how to contribute and receive a Streamr Award?

Becoming a contributor in an open source project can be a bit of an arduous process. There is sometimes a steep learning curve on gaining the understanding of what to do or where to start the journey to add genuine value. The Talko platform, Streamr Awards, and the nine different high level categories were created as a guide to solve this ache.

The categories are formed on the basis of the historical activity of the community members along with the kinds of activities that we would like to see more of in the future. These categories are: Competition, Community Hero, Socials, Education, Security, Technology, Content, StreamTeam, and Events.
Within these categories, we invite all kinds of code and non-code contributions from community members.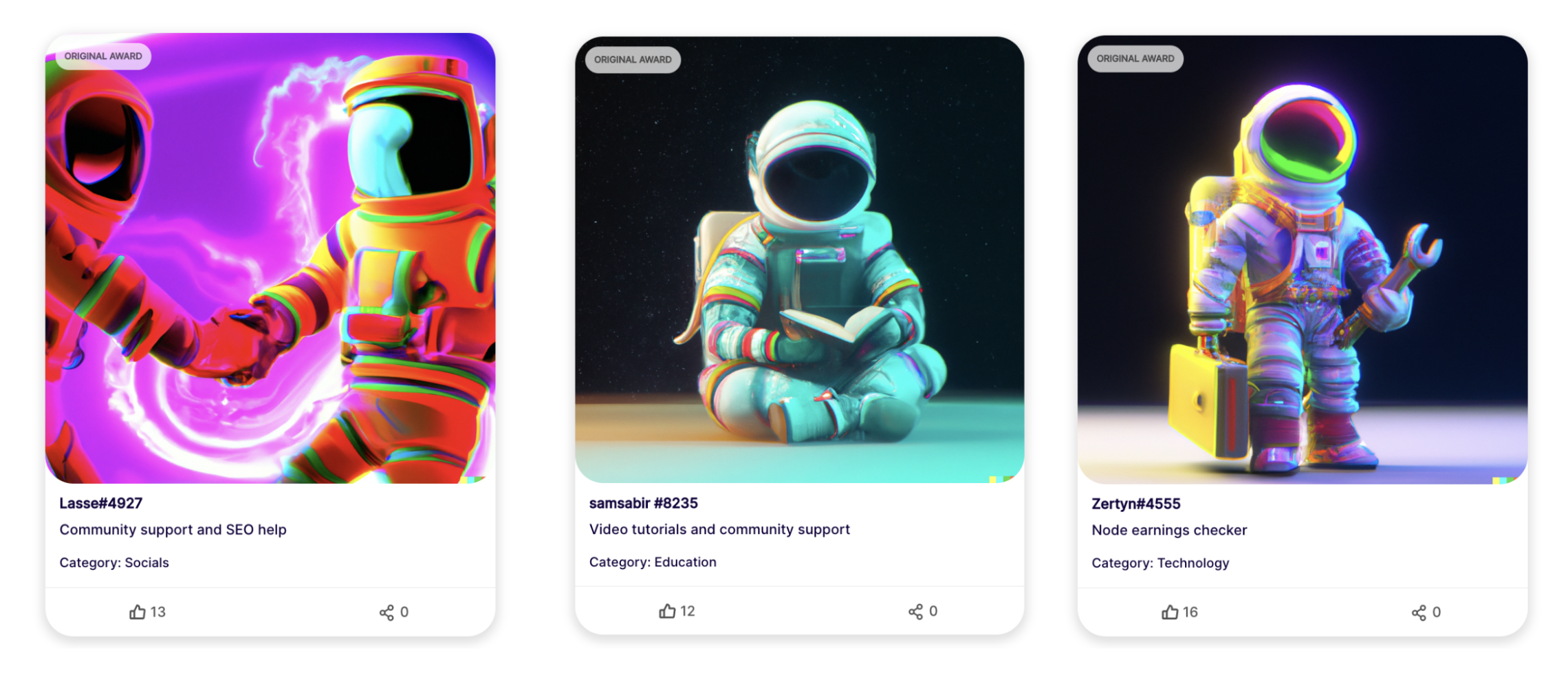 If you have made a contribution such as a blog post about Streamr, video tutorial, PoC using the Streamr client, or simply regularly helping others in the community, let us know in the Streamr Awards Discord channel. You can also recommend others for their contributions. Our community managers will have a look at your contribution and evaluate it, and given it's above a certain threshold, they'll decide if you will get a unique Streamr Award sNFT!
If you receive your Streamr Award, you can also mint a copy using the platform to someone who is a co-contributor. This is the shareable part of sNFTs, and allows recipients to make sure their peers receive the credit they deserve.
A great place to browse for contribution inspirations is to check the previous awards on the Talko platform. You can also now see when a new Streamr Award is minted by following the Discord channel and a new Twitter account that posts as soon as one is added to the platform.
Good luck and happy contributing!