Table of Contents
What are Data Unions?
A Data Union is a framework, currently being built on the Streamr Marketplace, that allows people to easily bundle and sell their real-time data and earn revenue. On its own, our data does not hold much value, but when combined in a Data Union, it aggregates into an attractive product for buyers to extract insights. This is crowdselling, and has the potential to generate unique data sets by incentivising trade directly from the data producers.
What problem do Data Unions solve?
Most of the data generated by smart devices is stored in silos by the companies who provide our apps and devices. By making this information more accessible through trade, and incentivising the creation of new data points, an individual data economy can be stimulated and technologies such as those imagined in IoT might be realised.
In this data economy, it is up to the individual to decide which Data Unions are permitted to sell their information, putting a greater emphasis on privacy, transparency, and user control, where there has been little to none in the past.
Data Unions are the first convenient and scalable way for people to retail their digital information.
How do Data Unions work?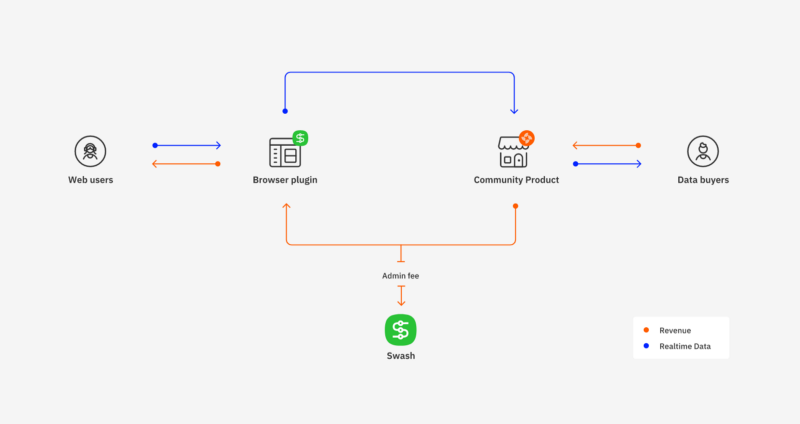 An app is built that receives user data, either directly by an SDK, or from a 3rd party ecosystem via an API. The app allows individuals to opt-in to send the data they choose, through the Streamr Network, to a Data Union where it is processed and bundled together with others' data for sale on the Marketplace.

A Data Union can be configured to capture all kinds of data, but may be best targeted for use in a specific niche. For example, a film production company could commission an app that lets users capture and sell their film and TV streaming data paired with their demographic info. Users get paid for their data and the company gets real-time insights into viewer trends to inform decisions on the kind of shows to commission.
The Data Union admin, who might be the developer of the app, takes responsibility for setting the terms of the Data Union. This includes its price, percentage, scaling, management of members, and marketing the data products to buyers.
Once a buyer pays for access within the Marketplace, the Streamr Monoplasma tool distributes the purchase value through the Streamr ERC-20 token (DATAcoin) to all individual providers and the product admin.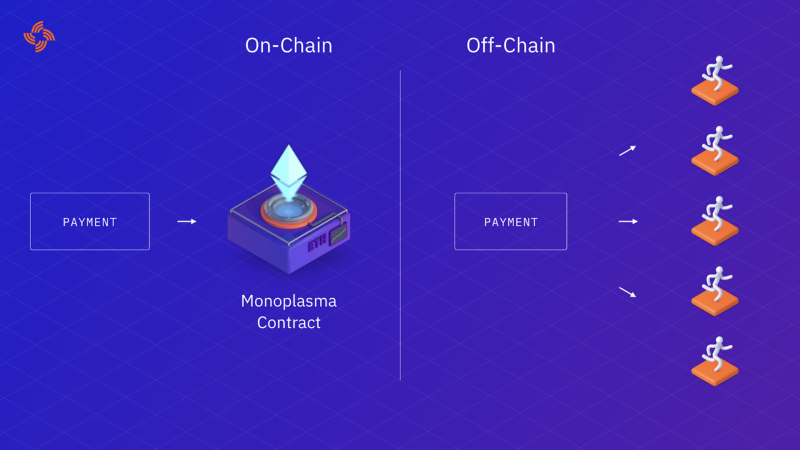 You can dive deeper into how Data Unions work in this blog from Henri Pihkala.
What Data Unions can I use?
The Data Unions framework will begin beta testing sometime in Q2. These are the Data Unions you can use today and in the near future:
Swash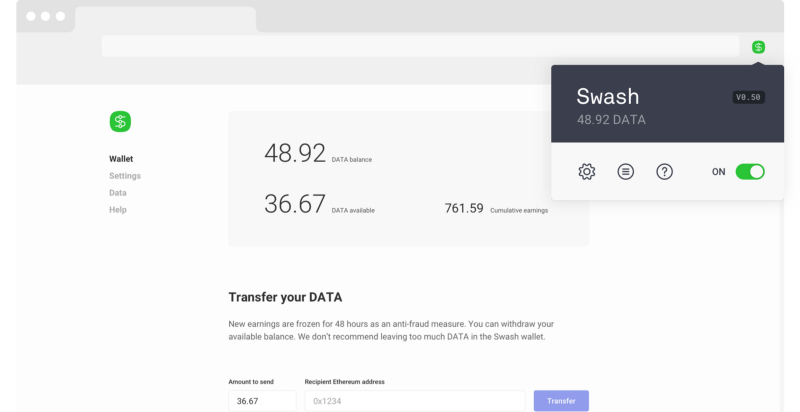 The Swash app lets users capture, anonymise, and sell their data as they browse the web. Swash is easily installed as an extension for Firefox, Chrome, Microsoft Edge, and Brave. The app lets people customise their privacy level and start earning tokens for their browser data right away.
Swash is available to use now in an open beta, and is expected to fully launch in the coming months, when the Data Unions framework is added to the Marketplace. The app is built by developers based in Turkey, who pitched the idea and received funding from the Streamr Community Fund.
Try Swash today and see what features are coming on its roadmap.
MyDiem
MyDiem is an app for Android that captures phone device and app usage information paired with demographic data, such as age bracket, country/region, and gender. This data is valuable for app developers and researchers to gain an insights into the daily phone use habits of various demographics.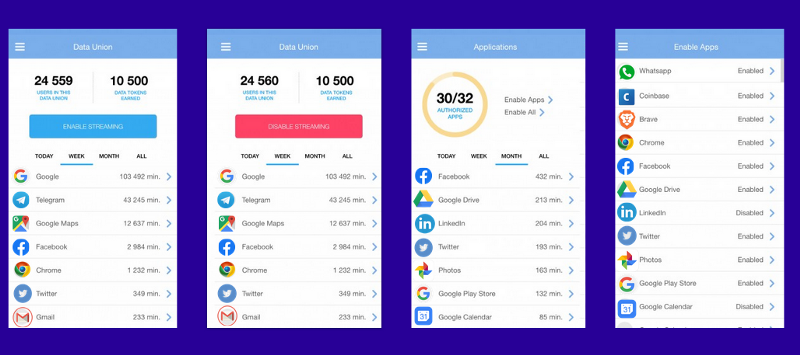 My Diem is also backed by the Streamr Community Fund; built by long term community-developer, Gang Liu. MyDiem is due to start beta testing in the next few months.
Spotify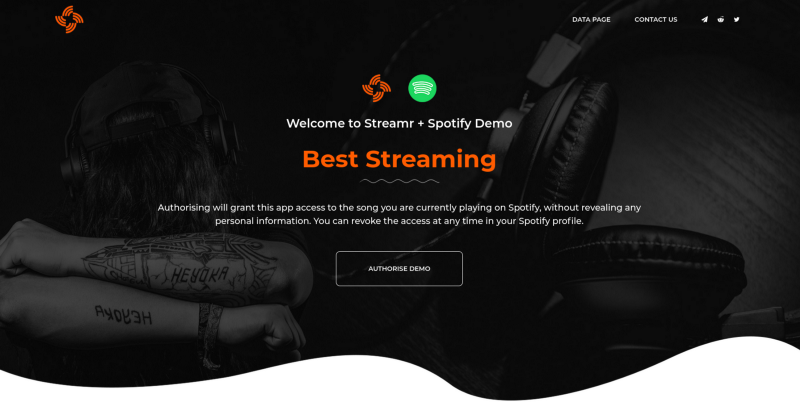 The Spotify Demo is built to showcase that Data Unions are not limited to new types of data-oriented applications, but can be incorporated into any existing platform to capture and control the data they already generate. In this demo, users send the songs they listen to, in real-time, to a Spotify Data Union with only few clicks and without having to install an additional app.
This aggregated data could be used for market research, trend analysis and granular competitive analysis (for example, a record label may be interested in knowing which songs users listened to before and after a certain song). While this initial demo is not meant for commercial use, and is limited to voluntary contributions, there could be many other use-cases that follow a similar pattern for any music streaming platform and beyond.
For example, one could utilise the Streamr stack to build not just an aggregated data pool, but a mechanism that allows users to store their listening preferences from the streaming platform. This would give users greater control of their data and would allow for more portability; if a user would like to test out a new streaming service, they could easily grant access to their own historic music data and receive a personalised service from day one.
Tracey
Tracey is an upcoming tool that captures seafood product data as it transitions through the whole supply chain. The app incentives fisherfolk to crowdsell their catch data in exchange for tokens. This data is sent to the Streamr Marketplace for sale and indirect monetisation, whereby institutions can access the data for free by agreeing to offer services such as micro-financing.
The incentivisation mechanisms at the point of catch create unique data about regional fish stock levels which can then be used to monitor sustainable practices. Tracey is being developed in collaboration with TX, WWF-Philippines, and Union Bank of the Philippines.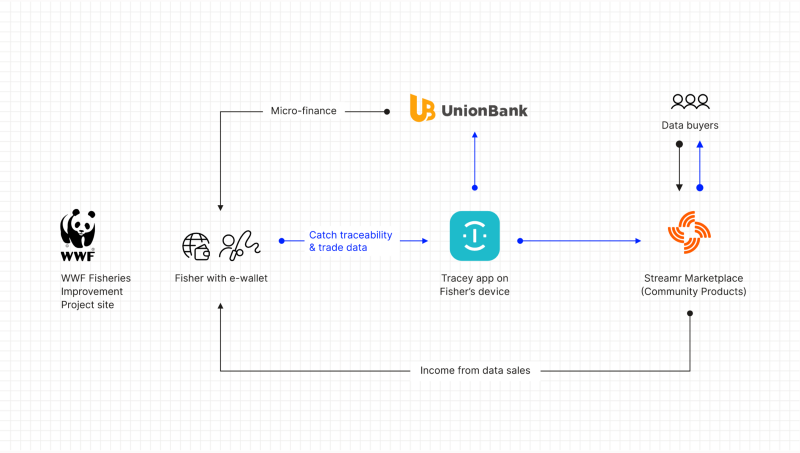 How can I build a Data Union?
Data Unions are built on a special framework that sits on top of the Streamr open data Marketplace. Anyone can build a Data Union and there will be new developer documents on exactly how to do this in the next few months. The framework will begin beta testing in Q2.
For now, if you have an idea for a Data Union, please submit a proposal to the Streamr Community Fund with as much information as you can provide. Funding is available for successful proposals.
Learn more about Data Unions
---
If you'd like to contact Streamr for more information on Data Unions, please email contact@streamr.network