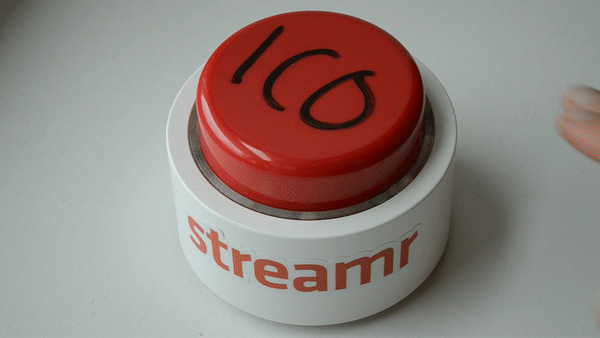 EDIT: Postponed pre-contribution period by 48 hours to start on Thursday, September 14th at 12:00 UTC
If you're new to Streamr, this video explains Streamr in 2 minutes. The characteristics of the whole Streamr system are described in detail on our website and in our white paper.
Dear community,
From the beginning, we have been keen to make sure that our entry to the space is not driven by an up-front request to collect funds, but rather by proof of our intentions, intuitions, and capacities in this industry. Over the course of the last months, we have been releasing demonstrations of this general philosophy, and the reception has seemingly been quite positive.
Nonetheless, you've been flooding us with inquiries about an ICO from the beginning; not a day goes by without numerous private emails and Slack inquiries to this end. This is of course terribly flattering. So if that is what you generally want to see, then very well, let's do it: YES, there will soon be a crowdsale of the DATAcoin token (symbol: DATA), the usage token native to the Streamr Network.
The DATAcoin token will be available in two phases:
Pre-contribution period
Planned to start on Tuesday, September 14th
Our partner Bitcoin Suisse will onboard the contributions via their brand new platform
A bonus will apply
Crowd contribution period
Planned to start soon after the pre-contribution period in late September or early October
The total contribution cap is 30 million CHF (Swiss franc) or equivalent in total (presale and crowdsale combined). 65% of all tokens is available to the general public. A website detailing the exact terms and conditions of both contribution phases will be launched soon.
We've been working since 2014 to make real-time data more usable and valuable to everyone. We have built tools that lower the threshold and cost of data-driven prototyping, automation, and application development, and worked with clients ranging from startups to multinational enterprises, helping them to find new value in data.
The amount of real-time data is growing exponentially for the foreseeable future. This means that there will be more machine-to-machine messaging than there is people-to-people messaging, by many orders of magnitude.
This messaging needs scalable, low-latency infrastructure that fully supports the decentralization of applications. We believe decentralization to be the inevitable future of the whole application development stack. Decentralization of real-time data will be a necessary step to free personal, commercial, and machine data streams from the control of giant corporations. It will unlock the next level of decentralized applications and go way beyond what is achievable with current-day blockchains and distributed file storage alone.
Being fairly new faces to the scene, we have been cautious before making an announcement like this. Streamr represents a vision of the deep future, and one that we hope to play a big part in, but which we know all too well involves many "unknown unknowns". Still, we are proud to join the ranks of others who bravely march down such a path. Particularly we want to thank our visionary friends at Golem and OmiseGO for their encouragement and mentorship throughout this process.
In closing, let me say that we sincerely look forward to serving the Ethereum and general decentralization-movement community with a smooth ICO and an incredibly useful service. We hope to leave our mark in this space, and contribute to the development of a new breed of applications and business models. To be clear, we thrive on this. We are engineers.
I invite all interested parties to join our Slack, where you can stay updated about the contribution periods and other matters. You can also chat with us in person at Bitcoin Wednesday on September 6th in Amsterdam or at the Golem & friends meetup on September 7th in Berlin. The team will be available to answer any questions you may have.
Here's to yet another stepping stone towards a more balanced and decentralized future!
Kippis,
— Henri, CEO Streamr
Disclaimer: This blog post is a declaration of intent, and does not constitute an offering. Detailed terms and conditions of the crowd contribution periods will be available on the official website published by Streamr Network AG.