After four exciting months, we're ready to announce the shortlisted Top 20 teams of the Streamr Data Challenge.
The Streamr Data Challenge engaged developers to create more valuable data economies through Data Unions. So what are Data Unions? They are a means to create ethical data products that reward data providers and enable buyers to extract insights. Data Union builders can navigate privacy and consent issues around the monetisation of personal information. By integrating into the Data Union framework, or building a Data Union app, interested developers or platform owners can unlock and crowdsell the real-time data that their users generate and reward them by sharing data sales revenue.
Once the Streamr Data Challenge opened, we received very interesting submissions across several industry verticals with out-of-the-box Data Union integrations. The winners of the contest stand to benefit from the experience of learning more about data privacy and decentralized data economies, in addition to the $5000 grant.
After much deliberation, we have chosen the following projects to be a part of the first shortlist: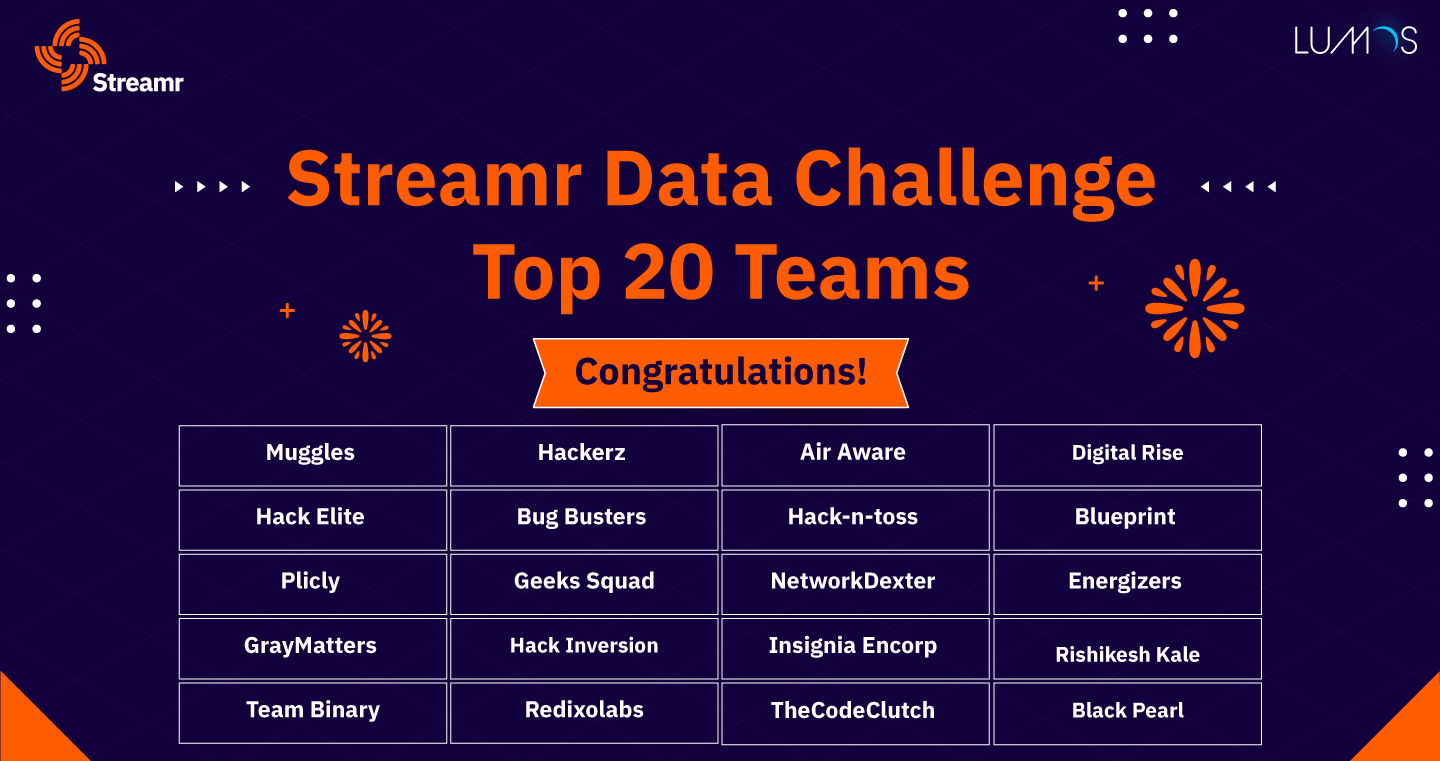 AirPower by Muggles
Muggles, a four-member group from Chitkara University, have built an all-in-one energy management solution on an IoT- based infrastructure.
Hack Elite's Birds Voice Recognition Project
Hack Elite, a two-member team from the Indian Institute of Information Technology, Nagpur, has come up with a novel solution to make bird-watching a better experience. Automated classification allows hobbyists to easily retrieve information on the bird species heard.
Plic by Plicly
Plic is a three-member team from the PES University, with a vision to provide real-time posture correction for laptops and monitors, without any wearables.
Kisan CropAllot by Gray Matters
Gray Matters is a four-member team from the Indian Institute of Information Technology, Allahabad. They built Kisan CropAllot, an ML-based crop management and recommendation system for farmers.
PlantPay by Team Binary
PlantPay is an initiative by Team Binary, a four-member group of students from the SRM Institute of Science and Technology. Simply put, PlantPay incentivises users for planting saplings and nurturing them.
GlobeTrotter by Hackerz
Hackerz is a three-member team from PES University that developed GlobeTrotter, a web app that connects verified local guides with travellers for tours.
Healthsy by Bug Busters
Healthsy is an app that will predict and verify diseases at home, using the power of Machine Learning and mobile devices. It was developed by a four-member team from the Indian Institute of Information Technology, Nagpur, Healthsy's Data Union gathers patient information such as medical history, age, allergies and prescribed medicines.
Geeks Squad's agriculture query platform for farmers
Geeks Squad is a two-member team from Walchand College of Engineering who were inspired to provide a one-stop forum to help educate farmers and answer agriculture-related queries.
UpHealth by Hack Inversion
Hailing from SRM University, Hack Inversion, a three-member group, developed UpHealth, a healthcare app that tracks and maintains health and fitness records.
Smart Agri tech Kit by Redixolabs
Redixolabs is a four-member team based out of the Indian Institute of Information Technology. They devised an application that will help farmers learn more about technology and the solutions that it offers.
Air Aware
Air Aware is an initiative by Divij Jain from the Guru Gobind Singh Indraprastha University. Air Aware detects the air quality of a given region in real-time using a HEPA capture material. It is also equipped to detect details like the presence of pathogens and disease-spreading bacteria.
Host Engine by Hack-n-toss
Host Engine is a decentralized web hosting solution using blockchain that uses the Interplanetary File System (IPFS) protocol to decentralize website hosting needs and avoid issues arising from server downtime. Host Engine was developed by HAck-n-toss, a 3 member team from SRM University.
NetworkDexter
NetworkDexter – X is an android app built by a two-member team from Chandigarh University. With a motive to connect everyone independent of the internet or Network, NetworkDexter leverages every feature of the average phone including Wi-Fi/BLE/HotSpot and as well as use the power of Audio using Ultrasonic waves to connect phones in the vicinity.
Employ by Insignia Encorp
Insignia Encorp, a four-member team from the Velammal Engineering College, developed Employ, a Platform as a Service application built to provide employment opportunities to the uncategorised workforce of the Indian economy.
Pragati by TheCodeClutch
Pragati is a web app for economically underdeveloped women to become financially independent, by allowing them to post self-made products/services. It is also a marketplace for handcrafted goods.
Digital Rise
Digital Rise was built by a team of two from SRM University. It is an AI-based online assessment monitoring software that scans for malpractice using eye and face tracking and a custom warning algorithm.
Blueprint
Blueprint was created by a two-member team from the Institute of Engineering and Technology – Devi Ahilya Vishwavidyalaya, Indore. It is an interactive video classroom making online classes interactive and fun.
Farmernest by Energizers
Farmernest is an application that cuts out the middlemen in the agricultural supply chain and helps farmers get direct access to sellers.
WastEarn by Black Pearl
WastEarn is a waste management solution that involves purchasing recyclable garbage from waste producers that are further sold to recyclers. The average citizen can earn by selling household waste. WestEarn was developed by the four-member team named Black Pearl from the Indian Institute of Information Technology, Vadodara.
Vidhira by Aathmanirbhar
Vidhira is an application developed by a four-member team from the Shri Ramdeobaba College of Engineering and Management. This application ensures that the content created is attributed to its makers without any room for plagiarism. Content created by the users is tagged with a unique ID.
Our hearty congratulations to the shortlisted folks!
What's next?
In this phase of the Streamr Data Challenge, we're going to hear the top 5 teams make their pitches to compete to win the $5,000 grant at Demo Day.
The Demo Day will also feature a panel discussion on the Internet of Ethereum. With respect to the foundational layer of application grade blockchains achieving a level of maturity, the race for mass adoption is truly on. There are layer 2 protocols that make building dApps, onboarding and retaining users simpler for dApp developers. But what does this ecosystem look like and what's their the role of these stakeholders on the Internet of Ethereum?
This panel discussion will feature experts from the blockchain space who understand decentralized performance, developer and user experience, and most importantly data handling. The panel will discuss how all of those elements come together to realise a decentralized internet.
Meet the speakers
Henri Pihkala – Founder & CEO, Streamr
Sandeep Nailwal – Co-founder & COO, Polygon (previously known as the Matic Network)
Harsh Rajat – Founder, EPNS
Aniket Jindal – Founder, Biconomy
Ganesh Swami – Co-founder, Covalent
Raghu Mohan – Co-founder & CEO, Lumos Labs (Moderator)
We believe that the Demo Day will conclude the Streamr Data Challenge by enabling innovation with decentralized data economies, support the upcoming projects in this space, and bring together a community of kindred folk who can contribute to building consumer inclusion in today's data economy.
We would love to see you at the Streamr Data Challenge Demo Day on March 6th, starting at 5:30 p.m. IST!
Join us by registering here.