Streamr founder Henri Pihkala isn't just the company's technical figurehead, his ideas, enthusiasm and experience are a key way for us to spread the word about what it is we're doing, why we're doing it and who we're doing it for.
It seems barely a week goes by without Henri being interviewed by someone, and unless you're a Streamr superfan you're probably not going to listen to them all. So what's unmissable? We've hand-picked Henri's best five interviews from 2018. Whether you want an overview of Streamr, crave details on the project, or just want to know more about Streamr's CEO, there's something for you here.
Democratising data: Streamr in a nutshell
Want a concise overview of what Streamr is, who it's for and how it works? Look no further than this five-minute interview by Bitcoin Magazine NL. Filmed in our beautiful home of Zug, Switzerland, a surprise rainstorm helps keeps the questions to the point, and Henri's answers especially focused.
And if that whets your appetite for Streamr (see what we did there?), why not watch part two. Here Henri gets into use cases, discussing how partners including Nokia and Hewlett Packard Enterprise are using Streamr to support advanced data-gathering and sharing prototypes. There's also a high-level look at how crypto fits into the project, and a quick talk through Streamr's roadmap.
"Rain! We could have got a realtime warning of the rain if the cars that are driving around could share this information they can detect."
On the Crypto 101 podcast
The Streamr project has many facets. The crypto community likes to geek out about DATAcoin, the cryptographic token that powers micropayments in the Streamr ecosystem, but everyone is drawn in by our vision of a new data economy, and our plans for Streamr to be the fundamental platform on which it runs.
In July, founder and CEO Henri Pihkala got into a fascinating discussion with Matthew Aaron, host of the Crypto 101 podcast, as the two explored a near future Smart City in which data — and our lives — flow automatically and effortlessly. In the background, our devices, cars and things trade the data we create and the data we need, all without friction, and without us ever ceding control.
You can listen to the podcast on SoundCloud. Best quote:
"It's a good future only if we're in control of our data."
Streamr: the app store for data streams?
If you want a great overview of how the Streamr ecosystem works, look no further than the first ten minutes or so of Henri's appearance on the Tech Blog Writer podcast. Introduced by host Neil C. Hughes, Henri gets to paint a full picture of how Streamr came about, how the platform works, and how its various parts go together including the decentralized Network, to support a new data economy.
It's early days for the Streamr data Marketplace, which Henri describes as 'a kind of eBay for data streams'. Perhaps the most interesting part of this podcast comes as Neil brings the discussion onto the barriers to access in the current crypto space, and Henri explains how challenges including a lack of user friendliness need to be solved before platforms like Streamr can truly enter the mainstream.
"We want to generate a layer of technology that's missing from the protocol stack of today's internet."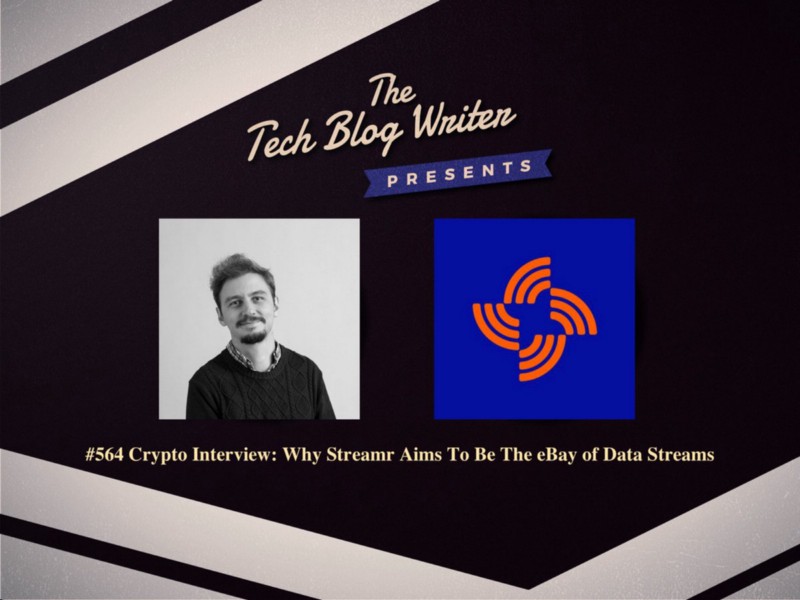 Are we the good guys? Henri's video AMA
When we go on about the importance of our community, it's not just talk. We get a huge amount — ideas, encouragement, criticism and crowdfunding — from the Streamr community. Ultimately our goal is to be a distributed, community-owned project, so who better than the community to ask us how it's all going, and what's coming next?
That's the point of our ask me anything interviews, including Henri's first live-streamed video AMA from late July. Aided by community and events manager Amandine Flachs, head of communications and strategy Shiv Malik asks Henri to update us all on the project's technical aspects, and the strategic direction we recently set out. After 20 minutes of in-depth discussion, the pair moved on to questions from the community, including whether Streamr is too ahead of its time, what's happening with our partners, and whether, when it comes to data privacy and security, we are the good guys.
It's a fascinating and far-ranging session where, as usual, Henri is straightforward and candid. If you've got questions about the project, there's a good chance you'll find them answered here, or you could check out our previous Reddit AMA sessions from January and June, and our first ever live video AMA from April.
"We will never market the $DATA token in an attempt to boost its price, because that's just hot air. What we do is try to focus on delivering the fundamentals, which we do believe will create value into the Streamr ecosystem."
Must. Have. More. Detail.
Whether an interview focuses on the crypto, data or Streamr communities, they're generally reasonably high-level discussions for a general audience. But what if you're not the general audience? What if you're looking for an in-depth breakdown of Streamr's platform, its data marketplace, and how we plan to move it to a community-owned, decentralised network?
Turns out you're in luck: back in March, Henri got into an in-depth discussion with Jeff Meyerson of Software Engineering Daily. In an hour of conversation, the two pick apart the origins of Streamr and discuss why our decentralised Network is an essential component for trust. Along the way, Jeff asks some probing questions around use cases, DATAcoin, the Streamr ICO and transparency. It's a fascinating listen, but for those who'd rather read there's also a full transcript available here.
"Keeping [data] secret [in centralised systems] cannot — it simply cannot be the winning solution. Like in 100 years, it has vanished off this earth. This is my prediction — I hope I live to see it!"
Still want to know more about who we are and what we do? Want to get involved? Join our community on Reddit, Telegram and Twitter.