We are thrilled to announce that the Streamr Open Data Challenge, a contest to add new real-time data streams to The Hub, has transitioned to LearnWeb3! We believe this move will fuel the objective of driving open data in Web3, while getting the challenge to more awesome developers in the LearnWeb3 community.
Before we explore the details of the upcoming challenge, let's first celebrate the developers who won the previous round in July!
Round One Winners
Each winner presented an innovative and viable solution, leveraging Streamr in distinct ways. Originally we had planned to hold a separate community vote, but as it was a choice between two entrants with such a similar standard of stream submission, we decided to split the prize between them instead.
🥇 First place
Art Sham leveraged the Streamr network to create an inventive tool for real-time air quality assessment. The project integrates data from various sensors and streams it to the Streamr Hub. This real-time air quality information is then visualised on a map to inform residents about the live air quality levels in their city. We were especially impressed by the creation of the front end for this project.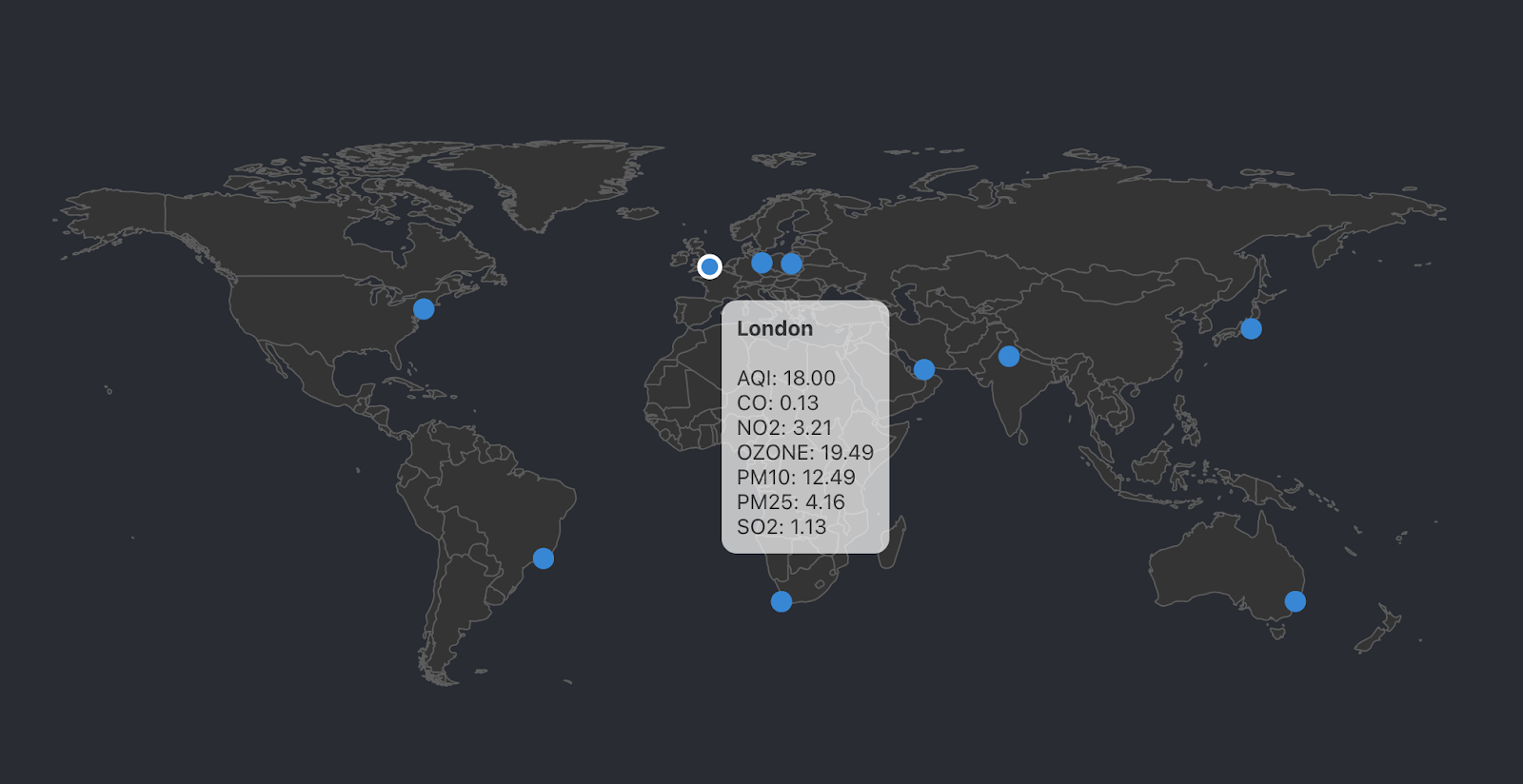 Art bolstered the trustworthiness of his project's data by using Streamr to ensure each air quality measurement is authenticated and stored in an immutable, tamper-proof manner. The resulting product is practical and visually engaging, which you can see in action here!
🥈 Joint second
Ümit Kirenci took a step towards a more sustainable future with this compelling proof of concept. It optimises waste management by using real-time data to measure container fill levels in large metropolitan cities like Istanbul. This allows the authorities to streamline garbage collection routes, potentially leading to reductions in operational costs, fuel consumption, and environmental impact.
Koutakou imagined a world where public data could be more readily accessible and useful in this project to stream data from the open French public data platform, with a specific focus on real-time energy production data. This data, which includes information such as electricity production and consumption rates, is refreshed hourly, providing a continually updated resource.
The project represents the possibilities of open data when harnessed efficiently, serving as a rich source of information for anyone interested in France's energy landscape.
Join the Open Data Challenge
With that said, it's time to ignite the spark for the next Streamr Open Data Challenge! We invite developers worldwide to show off their skills by streaming open data to The Hub, using the decentralized Streamr Network. From Citizen Science Data to Mobility and Transportation Data, the possibilities are vast. Here's what you need to know:
Objectives/Requirements
Choose from ten forward-thinking data stream ideas or create your own unique data stream.
Add your stream to The Hub.
Write a short blog post or Twitter thread detailing your achievements.
Share your work on Twitter using the hashtag #StreamrOpenDataChallenge.
Consider how you might maintain the stream to prevent data decay.
Prizes
Winners will receive:
A share of $500 in DATA tokens (two prizes of $250 in DATA each).
An exclusive sNFT.
What We're Looking For
Streams that offer tangible benefits.
Interesting and well-presented data.
Consideration of long-term data maintenance.
Get Started
Connect to LearnWeb3 and unlock the bounty description. Dive into the dev docs, choose your data stream, and start developing. Feel free to explore the provided ideas, such as Citizen Science Data, IoT Data, DeFi Data, and more.
If you have any questions, connect with us on Discord. Or contact @nicoburkart on Telegram for help.
We can't wait to see what you create for the Streamr Open Data Challenge! Showcase your ideas, make some noise on Twitter, and let the world see what makes your stream unique. Good streaming, and may the best data win!